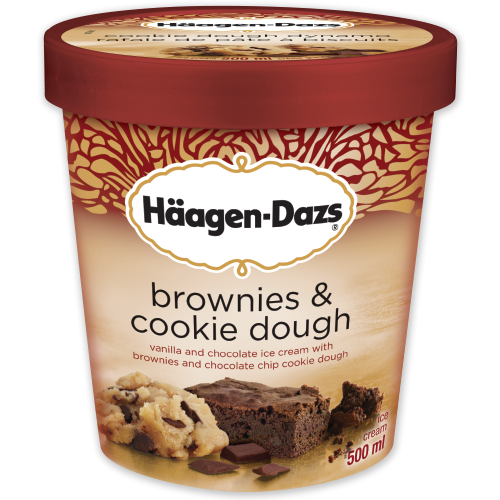 Brownies & Cookie Dough Ice Cream
Delicious brownie pieces, chocolate chip cookie dough and vanilla and chocolate ice cream provide pure decadence.
Features and Benefits
Nutrition Information
Ingredients
Brownies & Cookie Dough Ice Cream
Features and Benefits
Our products are made with 100% Canadian Dairy

All products carefully crafted in Canada
Description
Features and Benefits
Brownies & Cookie Dough Ice Cream
Nutrition Information
In the event of any discrepancy between the information listed on this website and on each individual package, please refer to the information listed on package.
Brownies & Cookie Dough Ice Cream
Ingredients
,
,
, chocolate chip cookie dough (
,
, brown
,
, cocoa
,
,
,
,
,
,
,
) , brownies (
,
,
,
,
,
,
,
,
,
) ,
,
,
,
.
May contain peanuts and tree nuts
.
Brownies & Cookie Dough Ice Cream
is rated out of
5
by
103
.
Rated

5

out of

5
by
oxnatxo
from
Brownies AND Cookie Dough? Best of Both Worlds!!
What fully grown adult wouldn't love to satisfy their inner child with this decadent treat? Generous helpings of rich chocolate brownies with scoops of delicious cookie dough in Haagen-Dazs' signature creamy vanilla ice cream. This ice cream has become a family favorite. You will always find Haagen-Dazs in our freezer, regardless of the season. It is enjoyed by members of our family, both young and old. It's easy to please everyone when you've got Haagen-Dazs! I highly recommend Nestle Haagen-Dazs brownies & cookie dough ice cream. If you haven't tried it yet, you're missing out.
Date published: 2016-12-03
Rated

5

out of

5
by
killace27
from
Heaven
I bought this tub of ice cream just recently and oh gawd how good is it. I don't understand why anyone would buy any other flavor compared to this. They're all insignificant compared to this if you haven't tried it yet. It's pretty much heaven in your mouth if you like both brownie and cookie dough flavors. Honestly this should be the only flavor on Häagen Dazs product line when it comes to ice cream because they're probably making BUCKS from this alone. This is the future of the ice cream industry and it's certainly bright.
Date published: 2016-10-21
Rated

5

out of

5
by
zz88
from
CREAMY ICE CREAM FULL OF BIG GOOD CHUNKS
This is my all time favourite. I always pick up at the grocery store it is my guilty pleasure. The ice cream is soo rich and creamy. The chunks of cookie dough and brownies are so satisfying and delicious. I love haagen dazs because they dont skimp on the chunks there is plenty in there. This combination is like having all 3 desserts, ice cream, brownies, and cookies all at once and it really doesnt get better than that.
Date published: 2016-11-17
Rated

1

out of

5
by
BrittanyChristine
from
Tasted expired!
I bought this a couple weeks ago and tried to eat it every other day, it is discussing and tasted expired! It was horrible and made me sick! I got a huge tub of it that I just had to throw away. I am extremely disappointed. I loved the peanut butter chunk one, but the brownie and cookie dough was just disgusting. The expiry date wasn't set until august 2017! Very upsetting.
Date published: 2017-01-30
Rated

5

out of

5
by
Stephen K
from
Incredible
My #1 critic of this item is that as opposed to other flavours, this one is incredibly difficult to find. Almost no one carries it here in Montreal. Whenever I find it I buy a few. The best feature is the combo of vanilla & chocolate ice creams. Mix that with rich cookie dough and brownies what's not to love? My favourite ice cream anywhere.
Date published: 2017-05-24
Rated

1

out of

5
by
Crystalrivver
from
Disappointing
I usually get the Cookie Dough Dynamo, and love the taste of vanilla ice cream mixed with just the right amount of cookie dough. I thought I would try this one because...hey, it has brownies too! It was really disappointing. Probably the worst flavour of Haagen Dazs I've tried. Too much brownie, not enough cookie dough or ice cream. :(
Date published: 2016-09-26
Rated

4

out of

5
by
AmKat
from
Almost perfect
I have resorted to buying this flavor ever since Häagen Daz "discontinued" their rocky road. I love brownies and I love cookie dough and most of all, Häagen Daz knows what they are doing when making a yummy binge worthy ice cream. A little pricey. However totally worth it and a 5 star review if you bring back rocky road.
Date published: 2016-11-17
Rated

5

out of

5
by
sarah94
from
Explosion of flavors
I slowly grew out of being lactose and my friend introduced me to this particular flavour, and my freezer is always stocked with it. The creaminess of the ice-cream has to be my favourite because you know fresh dairy is being used. If you're looking for a snack for your lazy Sunday, this is it.
Date published: 2016-11-13