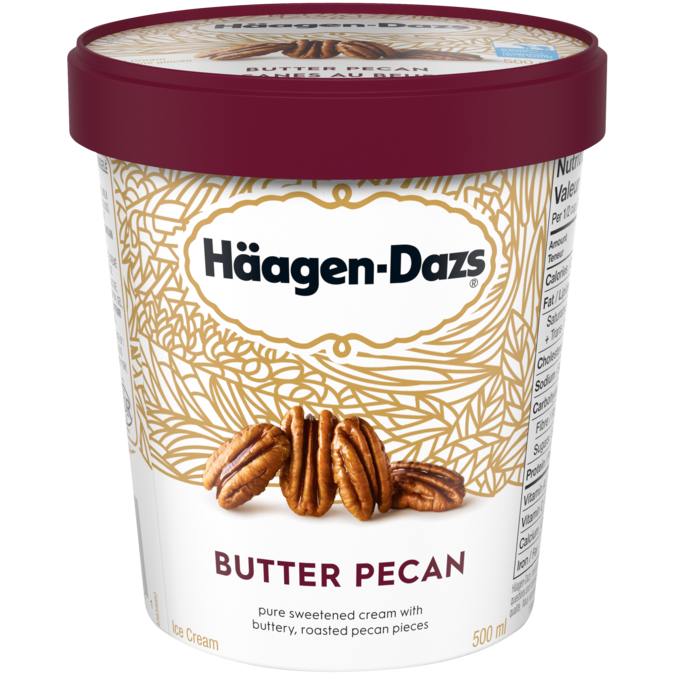 Butter Pecan Ice Cream
Indulge in the irresistible taste of HÄAGEN-DAZS® Butter Pecan Ice Cream. Since 1960, our passion has taken us on a journey to transform only the finest ingredients into a simply extraordinary ice cream experience. Buttery roasted pecans are blended with pure, sweet cream to create a truly supreme flavour. Satisfy your pecan craving with this rich, delicious treat - made with 100% Canadian dairy.
Features and Benefits
Nutrition Information
Ingredients
Butter Pecan Ice Cream
Features and Benefits
Buttery roasted pecans blended with pure, sweet cream.

Our ice cream is made with 100% Canadian dairy.

Savour exquisite taste that reflects our passion to use only the finest ingredients, from the simplest sources.

HÄAGEN-DAZS® has been perfecting true, premium ice cream since 1960.

Further indulge your pecan craving with HÄAGEN-DAZS® Pralines & Cream tub.
Description
Features and Benefits
Butter Pecan Ice Cream
Nutrition Information
In the event of any discrepancy between the information listed on this website and on each individual package, please refer to the information listed on package.
Butter Pecan Ice Cream
Ingredients
,
,
,
,
,
,
milk protein concentrate powder
,
,
,
,
.
May contain peanuts and other tree nuts
.
Butter Pecan Ice Cream
is rated out of
5
by
9
.
Rated

5

out of

5
by
Wandacush
from
Best Flavour yet in my opinion
To be honest when I purchased a this the first time I wasn't sure what to expect. But the simplicity of just the sweet cream and roasted pecans had me hooked. I love the fact that it isn't overly sweet and the pecan flavour shines, no praline, no caramel swirl, no complications just a perfect ice cream. When it was first featured as a limited time only flavour, I made sure to buy multiples at a time just in case it was discontinued. Now I can relax because it is now a flavour that is permanent. Yay. This is the perfect ice cream to describe the Haagen Dazs brand, simple ingredients = Fantastic ice creams :) just my opinion though :)
Date published: 2016-11-02
Rated

5

out of

5
by
Barbm333
from
My Fav!
I tried this out a few months ago, and it's my fav. Stocked up, and now unfortunately, I can't find it anywhere in any of the grocery stores in Guelph, Cambridge, and Bracebridge Ontario. Is it being discontinued? What I love about it the most is it's simplicity and it's not overly sweet.
Date published: 2017-05-03
Rated

4

out of

5
by
Ed18
from
Great taste.
I really love the pecan taste. This taste more natural than others.
Date published: 2017-03-09
Rated

5

out of

5
by
Daddys_PeanutB
from
Soooo good!
No artificial flavours here! I love, love the buttery goodness and would be just fine with the ice cream itself minus the pecans! I'm not a nut person at all but I always buy this flavour! My store ran out so I opted for Chapman's "Premium" brand and right away I was missing my Haagen-Dazs! They use "butter pecan flavour" which ultimately tastes like butterscotch where as Haagen-Dazs uses butter for that amazing buttery goodness!
Date published: 2017-08-25
Rated

5

out of

5
by
PinkyNelson
from
Exquisite Simplicity
My brother and I decided to celebrate our Mother's Birthday by eating her favourite food. We had 4 choices, one of which was Butter Pecan Ice Cream which is the one I chose. I was delightfully surprised. Unfortunately, I have been eating too much since even though I say "Only when it is On Sale". It's OK. I will learn to control this.
Date published: 2017-06-22
Rated

2

out of

5
by
Cmoj
from
Pecans were off
Always love your ice creams. But tried butter pecan flavour and two different bites the pecans were bad/rotten. There is no way to tell if nuts are bad by looking as they are covered by the ice cream so you only find out when you bite into them - terrible taste. Ice cream itself was delicious but pls do better QA on the pecans! Thx
Date published: 2017-08-31
Rated

1

out of

5
by
Edward
from
No Flavour
I bought this flavor yesterday , but I 'm very disappointed , there is no flavor , all i can taste is the roasted pecans and pure iced water flavor . very low quality . the worst ice cream i ever tasted .
Date published: 2018-04-15
Rated

4

out of

5
by
sarickard
from
Simple greatness
I am slowly getting through all of the flavours and keep getting stuck on some of my favourites. Better pecan is very good. I like it quite a bit.
Date published: 2017-09-08