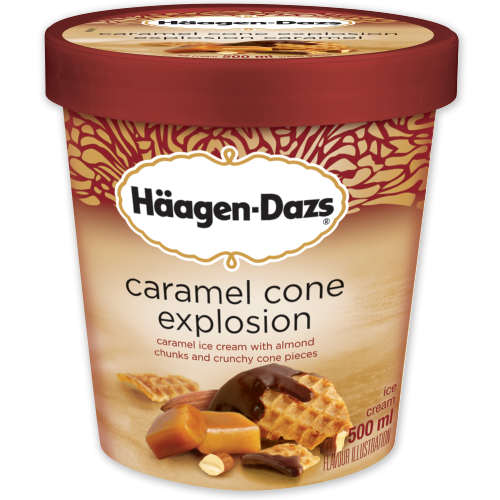 Caramel Cone Explosion Ice Cream
We balance a creamy blend of caramel ice cream and rich caramel swirls with the sweet crunch of chocolatey covered cone pieces to create a sweet, harmonious bite.
Shop Now
Features and Benefits
Nutrition Information
Ingredients
Caramel Cone Explosion Ice Cream
Features and Benefits
Our products are made with 100% Canadian Dairy

All products carefully crafted in Canada
Description
Features and Benefits
Caramel Cone Explosion Ice Cream
Nutrition Information
In the event of any discrepancy between the information listed on this website and on each individual package, please refer to the information listed on package.
Caramel Cone Explosion Ice Cream
Ingredients
,
,
, fudge convered cone clusters (
,
,
,
,
,
,
,
) , caramel covered almonds (
,
,
,
,
,
) ,
,
sweetened condensed skim milk
,
,
,
,
,
,
,
.
May contain peanuts / nuts
.
Caramel Cone Explosion Ice Cream
is rated out of
5
by
52
.
Rated

1

out of

5
by
kitpit
from
disappointed
I love Caramel Cone explosion. It is my secret addiction. Until today. They have changed the recipe. It doesn't taste as good as it used to. Please change it back
Date published: 2017-02-06
Rated

1

out of

5
by
Happymama
from
It's not the same
I've been enjoying this flavour for over 20 years but the recent container I had just didn't taste the same. The ice cream was sandy, the cone pieces were chewy and the caramel covered almonds weren't crunchy, the caramel was liquified as opposed to the hard crunchy coating it used to be. Very disappointed.
Date published: 2017-06-14
Rated

4

out of

5
by
maddie91
from
Lots of Cone
I tried this a few nights ago with my boyfriend and we were both thoroughly impressed. I love the chocolate covered waffle cone, and the flavours all went really well together. The only small complaint is that I wish there were more caramel chunks (? not really chunks just spots of caramel) mixed in with it. Overall, this is now one of my faves!
Date published: 2016-11-10
Rated

5

out of

5
by
ocelot
from
The best explosion on earth
Mmmm... It is 11h17 AM and just seeing the picture of this beautiful ice cream is making my body and my taste buds crave this. This is a real caramel cone explosion and no other description of this ice cream could have been better. Honestly, I am someone who prefers gelato to ice cream because I feel like ice cream is too dairy for me sometimes but this Ice cream is never too much for me. I can easily end one in a day, in front of a movie or a show or while talking to friends. I love how the caramel just swirls and melts in my mouth while the almonds are just waiting to be crunched and please, let's not talk about the gorgeous waffle that just comes in the middle of the caramel and the almond, those two textures that really contrast themselves, well they are connected thanks to the beautiful waffle and it's just a fusion of beauty that is hard to achieve but that Haagen-Daszs has reached effortlessly. Bravo, honestly. Also, I always recommend it to anyone when they're having a bad day, and in the end, they always thank me.
Date published: 2017-02-23
Rated

4

out of

5
by
awakendreamx
from
Amazing taste
The only reason I am not giving this a 5 star is because, to my taste, there should be more caramel bites. I feel like I have to dig for them every time. But overall, I love haagen Dazs prosucts and always have a pint in my freezer.
Date published: 2016-11-10
Rated

5

out of

5
by
Biggestfan
from
Delighted, ecstatic, over the Moon
20 yrs ago this was my most favourite ice cream! It then suddenly disappeared and I couldn't get it anywhere? I contacted Haagen Dazs and was told due to 9/11 and the naming of the product they had decided to discontinue!! I am sitting here eating a poor substitute thinking what I wouldn't do for some caramel cone and just decided to google....... ITS BACK ON THE SHELVES!!!! WHERE CAN I GET A TRUCKLOAD!!!
Date published: 2017-04-30
Rated

5

out of

5
by
LaurenceCB
from
Tasting a piece of heaven!-
I've bought it a couple of time. It's definitly the best Haagen-Dazs flavourever. With its crunchy cone piece and its caramel ice cream, Caramel Cone explosion is simply delicious. Often the main ice cream is out of vanilla or chocolate but this caramel ice cream is a perfect balance between tasty but not too sweet. Once you start dig in it, it's so hard too stop. (because deeply we don't want to) .
Date published: 2016-11-13
Rated

5

out of

5
by
ZahraM
from
Burst of flavours
I bought the caramel cone explosion last week, assuming it's gone be plane ol caramel ice cream with soggy ice cream cone pieces. But to my suprise the cone pieces were dipped in chocolate n deliciously crunchy. What a pleasant suprise. this is my new favourite for movie nights. Yum
Date published: 2016-11-04