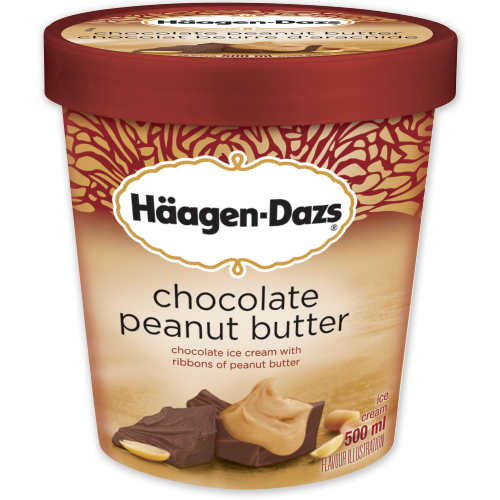 Chocolate Peanut Butter Ice Cream
We start with our legendary chocolate ice cream and swirl in ribbons of creamy, smooth peanut butter. The experience is an irresistible blend of flavours in every delicious mouthful.
Features and Benefits
Nutrition Information
Ingredients
Chocolate Peanut Butter Ice Cream
Features and Benefits
Our products are made with 100% Canadian Dairy

All products carefully crafted in Canada
Description
Features and Benefits
Chocolate Peanut Butter Ice Cream
Nutrition Information
In the event of any discrepancy between the information listed on this website and on each individual package, please refer to the information listed on package.
Chocolate Peanut Butter Ice Cream
Ingredients
,
,
, peanut butter (
,
,
,
) ,
,
,
.
.
Chocolate Peanut Butter Ice Cream
is rated out of
5
by
52
.
Rated

1

out of

5
by
lobo
from
Recipe change
My favourite Haagen Dazs ice cream used to be Rocky Road and then you discontinued it. My second favourite was chocolate peanut butter, but I just bought it and it's obvious that you changed the recipe! The chocolate is no longer as dark and delicious -- it's now lighter and more sugary tasting. Tastes cheaper for sure. The peanut butter was hard as a rock and difficult to scoop out. Please change the recipe back or I'm moving on to another company.
Date published: 2017-06-29
Rated

1

out of

5
by
Yapo
from
It is too poor tasty of peanut butter
I love Haggen Daze all the time, Yesterday i brought 4 kinds of HD from Save on food, Irish cream and chocolate brownie/ caramel explosion / chocolate with peanut butte. I am so sad about peanut butter was not smooth tasty and PB is too hard even i am waiting 5-10 minutes for scoop it. and really bad experience about ice cream with peanut butter (not creamy). First time i felt bad tasty of Haggen Dazs
Date published: 2017-06-30
Rated

1

out of

5
by
Bent
from
Needs some major refinement
I was really excited to try this when i saw it at the grocery store, and tried it for the first time today. . . . I was left wanting. . . I had allowed the container to warm up for at least 15 minutes, and when i dug in i encountered yummy soft, smooth chocolate ice cream and rock hard frozen gobs of peanut butter. No sign of delicate ribbons of peanut butter. Just large thick frozen chucks of peanut butter that i had to excavate out of the ice cream with my spoon to get out of the container.
Date published: 2017-05-17
Rated

5

out of

5
by
Bubbaloo
from
Totally yummy!
Read some of the reviews and people complained that the peanut butter was too hard. This is what I love most about this ice cream. I love the big, hard chunks of peanut butter. Please do not change this recipe ever.
Date published: 2017-07-07
Rated

2

out of

5
by
Walou
from
Taste good, but....
The peanut butter is rock hard! Overall taste good, but the peanut butter start to be soft enough to eat when the ice cream is melted already. Not your best product!
Date published: 2017-05-24
Rated

5

out of

5
by
Jake1995
from
Smooth rich taste! nothing compares to it
I buy this as a treat for myself every once in a while.my two favorite flavours combined with a rich and silky ice cream made with top notch ingredients. Nothing compares to this ice cream treat!!
Date published: 2016-11-28
Rated

5

out of

5
by
bronwynyoung
from
Looks and tastes great!
This was my summer go to, and still is in the upcoming winter months! It is the best chocolate peanut butter ice cream I've ever had. Very impressive and my favourite ice cream. 1000/10
Date published: 2016-11-08
Rated

1

out of

5
by
Steve W
from
This Used To Be Good!
The Chocolate Peanut Butter was one of my favourites. I have bought this flavour several times in the past when the peanut butter used to be smooth and creamy. Now I want to know why is the peanut butter hard as a rock hard? Something must have changed in the original recipe? I prefer the peanut butter the way it used to be, when it was creamy. Can someone at Häagen-Dazs please change it back to the way it was before.
Date published: 2017-07-04