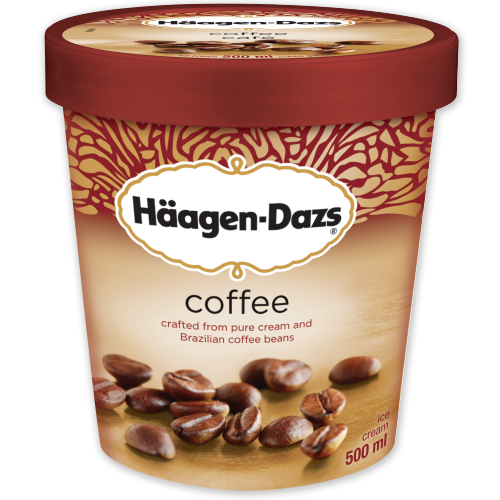 Coffee Ice Cream
The finest Brazilian coffee beans are roasted and brewed to perfection to bring out their rich, complex flavour. The combination of the brew with our pure, creamy ice cream awakens the senses.
Shop Now
Features and Benefits
Nutrition Information
Ingredients
Coffee Ice Cream
Features and Benefits
Our products are made with 100% Canadian Dairy

All products carefully crafted in Canada
Description
Features and Benefits
Coffee Ice Cream
Nutrition Information
In the event of any discrepancy between the information listed on this website and on each individual package, please refer to the information listed on package.
Coffee Ice Cream
Ingredients
,
,
,
,
.
May contain peanuts / nuts
.
Coffee Ice Cream
is rated out of
5
by
55
.
Rated

5

out of

5
by
saolover26
from
MY FAVORITE!!!
Haagen Daz Coffee ice has always been and still is my classic all time favorite ice cream!! I love Haagen Daz for their pure, simple, and perfected flavors that are not overly sweet. This coffee ice cream is just that, you get the perfect essence of coffee flavor in a subtly sweet and wonderfully creamy ice cream. I tried another coffee ice cream because my market didn't have tbis, but it just wasn't the same, the other ice cream didn't have enough coffee flavor and was filled with some other unecessary ingredients like chocolate chips. I hope I can find a market near me that carries Haagen Daz Coffee Ice Cream!
Date published: 2017-05-10
Rated

5

out of

5
by
David62
from
Time Traveller
I was first introduced to Haagen-Dazs coffee almost 35 years ago by a woman with whom I was hopelessly in love. This ice cream was as sensuous as she was sensual and a single taste takes me back to that time of breathtaking romance and a hot summer sitting on her floor au naturel enjoying bowls of this frozen delight and our passion. Alas, our love didn't last. I still enjoy Haagen-Dazs coffee ice cream from time to time but it never fails to sweep me back to hot afternoons long ago and bring a wistful smile to my face.
Date published: 2017-08-10
Rated

5

out of

5
by
Pete9876
from
For the coffee addict!
When you want to have a coffee on a hot day but don't feel like sweating buckets then this is for you. Great coffee taste with every bite, or should that be every lick of the spoon, combined with true cream taste, this makes this ice cream my go to when I need to satisfy my coffee addiction on a hot day.
Date published: 2016-10-23
Rated

5

out of

5
by
Jade
from
Great Taste!
I used to manage a frozen department in a grocery store. Haagen Dazs was loved by everybody. My manager would have a different kind everyday for his lunch. Finally I decided I had to try it and omg. The coffee is my favourite but they are all great! Could ice cream really be bad though?
Date published: 2016-11-09
Rated

5

out of

5
by
Bella72
from
The BEST Coffee Ice Cream!!
This is the best coffee ice cream that I have ever tasted!! I even bought a pint for my parents once as they are very particular, especially my mom! They are both European, and know the true taste of ice cream, which means gelato to them. I knew that they wouldn't be disappointed with Haagen-Daz's coffee ice cream, and they weren't! It has that true coffee taste. Sometimes I mix Haagen-Daz coffee, and chocolate together for an extra treat! I would highly recommend this coffee ice cream to anyone!
Date published: 2016-12-10
Rated

5

out of

5
by
bobbyboy
from
This is the best tasting thing I've ever had.
This is the BEST tasting thing I have ever had in my whole life, candy included.
Date published: 2017-10-24
Rated

5

out of

5
by
Always an ICE CREAM LOVER
from
WONDERFUL 'REAL' ICE CREAM!!
Haagen Dazs, Coffee Ice Cream:- Velvety smooth & creamy it tastes like ice cream should - no synthetic flavours & doesn't take like plastic. Straightforward natural ingredients. So many times it's sold out in the Coffee flavour, no matter where I buy it. It is little pricey when it's not on sale but that's only drawback. Would be a good idea if they started making it in larger sizes.
Date published: 2016-07-26
Rated

5

out of

5
by
Nik123
from
Love the coffee ice cream
I bought the coffee ice cream about 3 months back and I am hooked. I buy this ice cream every single time that I go grocery shopping. I have quite an addiction to it.is smooth and creamy with a great coffee taste. It has the right balance of sugar to coffee, and there isn't any bitter coffee taste. I could eat an entire pint, if I'm not careful.
Date published: 2016-11-28