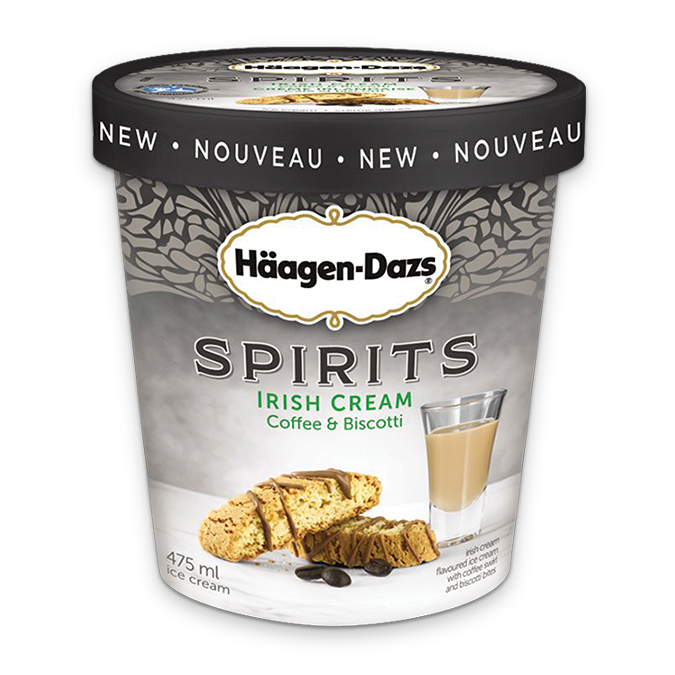 IRISH CREAM Coffee & Biscotti
Irish cream flavoured ice cream with coffee swirl and biscotti bites
Features and Benefits
Nutrition Information
Ingredients
IRISH CREAM Coffee & Biscotti
Features and Benefits
Our products are made with 100% Canadian Dairy

All products carefully crafted in Canada
Description
Features and Benefits
IRISH CREAM Coffee & Biscotti
Nutrition Information
In the event of any discrepancy between the information listed on this website and on each individual package, please refer to the information listed on package.
IRISH CREAM Coffee & Biscotti
Ingredients
Ice cream
(
,
,
,
,
,
,
,
,
,
, brown
,
,
,
,
, cocoa
,
,
,
)
coffee ripple
(
,
,
,
,
,
,
)
biscotti pieces
(
,
,
,
,
,
,
,
sodium acid pyrophosphate
,
,
,
)
May contain peanuts and tree nuts.
IRISH CREAM Coffee & Biscotti
is rated out of
5
by
14
.
Rated

5

out of

5
by
Lydia3
from
Blown Away!
This flavour is amazing! It tastes exactly like Irish Cream, just without the alcohol, making for an appropriate snack anytime. The biscotti bits add a satisfying crunch, and the coffee is the cherry on top of this meant-to-be ice cream. I am impressed.
Date published: 2017-05-31
Rated

5

out of

5
by
Millyhhhhan
from
good and soft!
So for normal ice cream, I have to wait for at least 5 minutes from the fridge to eat, but this one is just soft to eat! Although it melts quickly, the biscotti bites and irish cream just grabs my heart. Love it. And it's cheap.
Date published: 2017-08-03
Rated

5

out of

5
by
Lucy
from
Delicious!
Tastes just like Irish cream! The biscotti pieces add a nice crunch!
Date published: 2017-03-25
Rated

5

out of

5
by
ebbbba
from
My favourite amongst all spirit ones!
Tasted this at Bar Haagan Dazs. This is my favourite out of all 5 new flavours. Great balance of flavour and texture with the Irish Cream, and chucks of biscotti. It tastes creamy but not overly sweet :)
Date published: 2017-07-25
Rated

5

out of

5
by
Tree
from
Drooooool!!!!!
Bought this for myself and the whiskey for the other half. All I can say is, I didn't mean to eat it all in one sitting... but I did lol just couldn't stop it was so good!!!
Date published: 2017-07-16
Rated

1

out of

5
by
Miha
from
Hygiene Issue...
As a long time lover of your ice-cream, I have purchased last Friday, May, 5th, 2017 from the Longos located at 3085 Highway No. 7, Markham, ON, L3R 0J5, the new Irish cream coffee & biscotti' . To my deep repulsion I have found inside the ice-cream 1 blonde disgusting hair... which, as you can understand, cut my ice cream appetite completely. Considering the reputation of your company and the cost of you products this sort of incident is not acceptable. I am hoping that you can investigate and perhaps you can identify the provenience and take necessary measure. The codes on the package, by location are as follows. - By the bar code: 43755896 - On the lid: 43755893 - By the contact information: 1438 - on the bottom of the can: C500-0 Under normal circumstances I would recommend the ice-cream to my friends, but now, understandably, I am reluctant to do so...
Date published: 2017-05-08
Rated

5

out of

5
by
Catab
from
Best ice cream ever!
I've been having this ice cream since I tasted it!! ( about 6 mos). If you like irish cream , chocolate and coffee, this is the best mix ever. My husband doesn't eat much ice cream but this one, he cannot stop!! Me neither. Love it love it!!! I've recommneded this delicious ice cream to my friends and the're also in love with it.
Date published: 2018-07-14
Rated

5

out of

5
by
Beonsay
from
Irish treat for an Irish Gal:-)
I love this Ice Cream!! Its so soft and there's so much flavor!! First I tried it all by itself -so yummy!! Then I made Affogato out of it one night-Amazing taste!! I hightly reccomend this product to anyone-I have also tried the RUM Vanilla Caramel Blondie which was amazing, but this stole my Irish heart!!
Date published: 2017-10-25