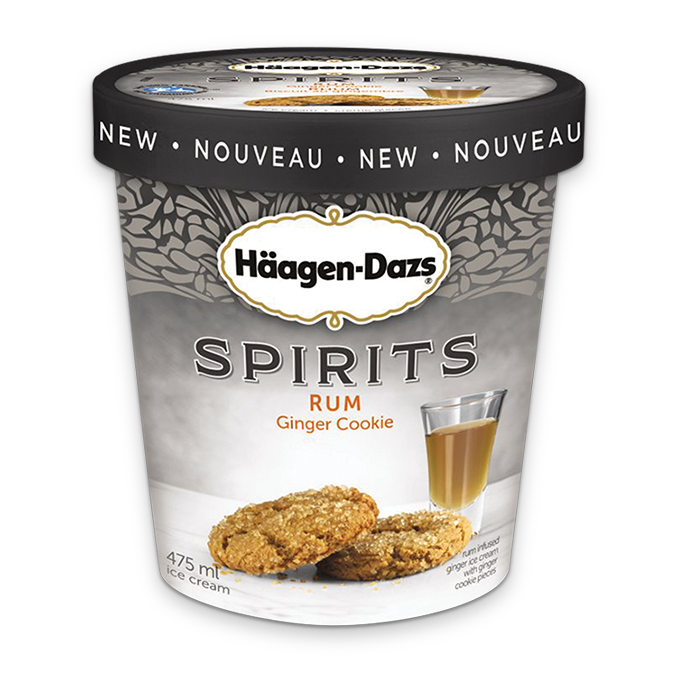 RUM Ginger Cookie
Rum infused ginger ice cream with ginger cookie pieces
Features and Benefits
Nutrition Information
Ingredients
RUM Ginger Cookie
Features and Benefits
Our products are made with 100% Canadian Dairy

All products carefully crafted in Canada
Description
Features and Benefits
RUM Ginger Cookie
Nutrition Information
In the event of any discrepancy between the information listed on this website and on each individual package, please refer to the information listed on package.
RUM Ginger Cookie
Ingredients
Ice cream
(
,
,
,
,
,
,
, brown
,
,
,
,
,
,
,
,
apple extract [for colour]
)
ginger cookie pieces
(
,
,
,
,
, brown
,
,
,
,
,
,
)
May contain peanuts and tree nuts.
RUM Ginger Cookie
is rated out of
5
by
18
.
Rated

5

out of

5
by
iloveicecream
from
Fantastico!
This is one of the best flavours from Haagen Dazs hands down. The ice cream is rich and smooth and the ginger cookie stays crunchy - a perfect combination. I hope they keep this in their roster forever!
Date published: 2017-03-22
Rated

5

out of

5
by
InThe6ix
from
scRUMptious
Finally...a series of flavours which my kids won't sneakily finish off! This should top off everyone's pumpkin pie during the holidays...or skip the pie. I have two more flavours to try (Vodka Key Lime Pie and Whiskey Chocolate Truffle), but so far this is the winner. Please don't discontinue the Spirits flavours. The rum taste is subtle enough...definitely not overpowering, even for someone who doesn't generally consume much alcohol. This one was not as sweet as the Irish Cream Coffee & Biscotti or the Rum Vanilla Caramel Blondie.
Date published: 2017-08-10
Rated

5

out of

5
by
Bree
from
Holy
So good I almost ate an entire tub. Crunchy pieces and smooth rum flavour. Amazing, scrumptious flavour
Date published: 2017-05-14
Rated

1

out of

5
by
chanika
from
Not what I expected
I did not enjoy this ice-cream at all! and it's the worst when you buy it for the price it is and don't enjoy it!.. Unlike its other spirit flavours you cant taste or smell any of the so called rum in the ice-cream, plus its way too much gingerbread flavour going on,.. if it was a vanilla ginger cookie it might be more subtle and mellow but it was just ginger on top of ginger and I found the flavour tiring ..reminded me of when you eat too much gingerbread cookies
Date published: 2017-11-17
Rated

5

out of

5
by
Cheffy
from
Huge flavour!
The first time I tried this I was shocked at how powerful the flavour profile was and I wasn't sure if I liked it but a few more spoonfuls in I was hooked. I've gone through a few tubs so far and I'm looking forward to serving it as dessert for a holiday season dinner party. That should tell you how much I like this! Very interested in trying it with toasted nuts and warm maple syrup.. :-D
Date published: 2017-12-17
Rated

5

out of

5
by
LMD1
from
My favourite ice cream
I love ginger cookies and this ice cream did not disappoint. Though I did not taste much rum flavour, it is fantastic in an spicy ginger cookie ice cream sandwich. We also served it with a gingery pear crumble - delicious. (I even bought some of this ice cream for a friend to try - she was hooked.)
Date published: 2017-12-19
Rated

5

out of

5
by
Jewels1637
from
Best flavour!
This is the best flavour ever!! Needs to be permanent. Wish I could find it more readily available. Literally tastes like a delicious ginger cookie with subtle rum flavour. YUM.
Date published: 2018-02-19
Rated

5

out of

5
by
macthecat
from
Unbelievably good!
Love the chunks of ginger cookie - which are really "gingery" and not some cinnamon-y substitute! Bravo on this one!
Date published: 2017-06-06