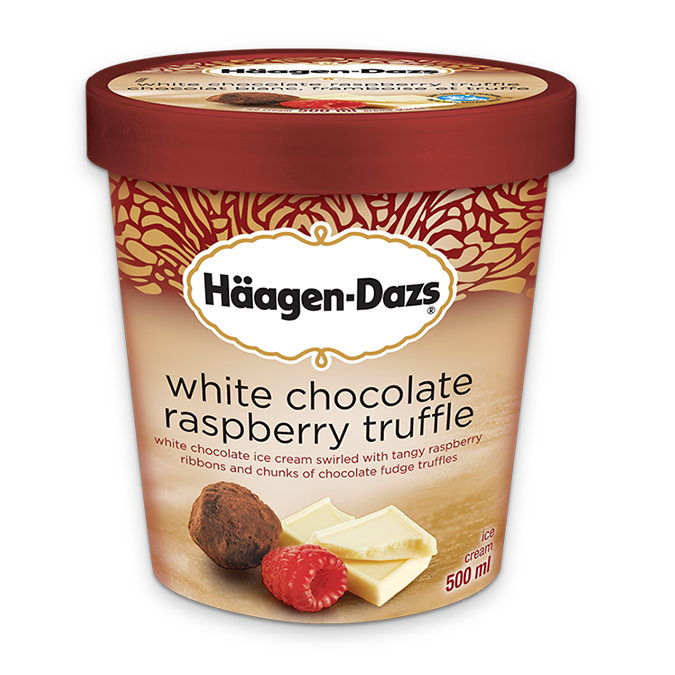 White Chocolate Raspberry Truffle
White chocolate ice cream swirled with tangy raspberry ribbons and chunks of chocolate fudge truffles
Features and Benefits
Nutrition Information
Ingredients
White Chocolate Raspberry Truffle
Features and Benefits
Our products are made with 100% Canadian Dairy

All products carefully crafted in Canada
Description
Features and Benefits
White Chocolate Raspberry Truffle
Nutrition Information
In the event of any discrepancy between the information listed on this website and on each individual package, please refer to the information listed on package.
White Chocolate Raspberry Truffle
Ingredients
Ice cream
(
,
,
,
,
,
,
,
,
,
,
) ,
raspberry purée
(
,
,
,
,
,
) ,
truffle pieces
(
,
,
,
,
) .
White Chocolate Raspberry Truffle
is rated out of
5
by
20
.
Rated

5

out of

5
by
Hollym328
from
Disappointed
Because I just finished the last of my white chocolate raspberry truffle ice cream. Why does it have to be so tasty?! By far my favourite ice cream. But half the time I go looking for it it is never stocked. Make MORE!!
Date published: 2018-01-26
Rated

5

out of

5
by
Carolboo
from
love it
Not too sweet! White chocolate taste more like milk! Love the combination with raspberry.
Date published: 2017-03-26
Rated

5

out of

5
by
brizzle
from
AMAZING!!
OHMYGAWD!! This ice cream is incredible!! The tangy raspberry swirl makes it :)
Date published: 2017-04-03
Rated

5

out of

5
by
David Perry
from
Best ice cream I have ever had in my entire life
I tried this... it's absolutely fantastic. My favorite ice cream I have ever tasted. As with true Haagen Dazs - it's actually ice cream... not some glued together chemical garbage mess called "Frozen Treat"... no, this is real ice cream. I usually buy the Vanilla. 4 ingredients! When you see competitors "ice cream" with the xantham gum, guar whatever, and all the other chemical glues they put in everything now ruining the taste, making it worse for you so they can save a buck... I only buy Haagen Dazs for the past 3 years.
Date published: 2018-05-20
Rated

5

out of

5
by
Desiree
from
I really love hagendaaz ice creams
I used to only get the chocolate because 1. I love chocolate (semi-sweet and dark) 2. I can read all the ingredients and understand 3. Delicious But this has added a twist. Just so yummy!!! I really wish hagendaaz would make chocolate bars. I'd be first in line!! I normally don't like white chocolate, but in this case it's amazing!!
Date published: 2017-10-03
Rated

5

out of

5
by
WCRT Fiend
from
I have forsaken all other flavours for you.
Coffee Haagen-Dazs used to be my favourite flavour...until the day that I saw this in the ice cream case. This is the best ice-cream ever. I don't bother with any other flavours any more. I have made special trips to specific grocery stores solely because they stock this flavour; other flavours mean nothing to me now. One time my self-restraint failed and I ate a whole pint in one sitting. I had to go out and buy another one so that my husband wouldn't know I ate the entire container. I may have a problem....
Date published: 2018-06-15
Rated

2

out of

5
by
macthecat
from
very disappointing - hardly any raspberry at all
the container had only a swirl of raspberry at the top of the container, going about a quarter of the way around. Digging down with a spoon revealed no more raspberry at all. At $7.49 I have a lot of choice of ice cream but this is a real disappointment. I took a photo of the ice cream, and you can easily see that there's hardly any raspberry.
Date published: 2018-01-17
Rated

1

out of

5
by
Bobby Jones
from
sounded good but....
back to the drawing board with this one... did not come close to what it could have been. Processed fudge was tasteless and fake... white choc ice cream was tasteless... raspberry ribbon, was ok... Buy it once because it sounds good, then never again... don't think this product will be around for long.
Date published: 2017-06-14