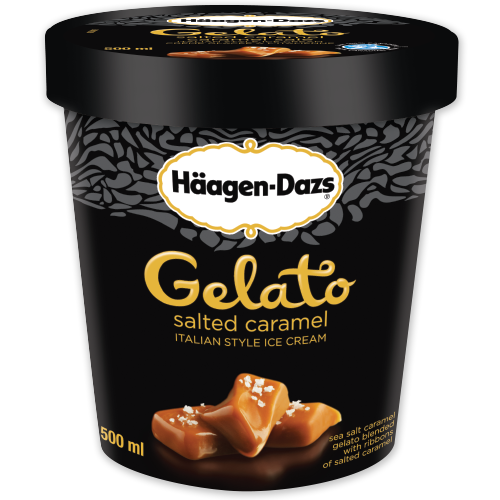 Salted Caramel Gelato
Rich in flavour, our salted caramel gelato blends ribbons of salted caramel into creamy caramel gelato.
Features and Benefits
Nutrition Information
Ingredients
Salted Caramel Gelato
Features and Benefits
Our products are made with 100% Canadian Dairy

All products carefully crafted in Canada
Description
Features and Benefits
Salted Caramel Gelato
Nutrition Information
In the event of any discrepancy between the information listed on this website and on each individual package, please refer to the information listed on package.
Salted Caramel Gelato
Ingredients
,
,
,
,
,
,
, brow
,
,
,
,
, sea
,
,
,
.
May contain peanuts and tree nuts
.
Salted Caramel Gelato
is rated out of
5
by
18
.
Rated

5

out of

5
by
Cece
from
So creamy and delicious. My new favorite....
I'm a person of habit. When it comes to Haagen-Dazs ice cream, I always choose vanilla and almonds. Good stuff. Unfortunately, when I visited the ice cream section this past week, they were all out of the vanilla and chocolate covered almonds. So I begrudgingly decided to do something "exciting", and try the Gelato line of products. I'm so glad I did! The "Salted Caramel' is awesome! My new favorite flavor. Haagen-Dazs ice cream is my favorite brand because it is rich and creamy. Well, the Gelato line is TWICE as rich and creamy. And there were these swirls of caramel woven into the delicious goodness. No more plain ice cream for me now. I look forward to trying all the different Gelato flavors. So good!
Date published: 2017-03-27
Rated

5

out of

5
by
Love Gelato
from
Better than the Carmel Ice Cream
When I discovered this one, I stopped buying the Ice Cream Carmel Dulce... This taste so much better, and they are very generous with the carmel. Yummy. Great Job. I just can not find it. Please say it is still in production.
Date published: 2017-06-27
Rated

5

out of

5
by
Kfunk
from
All we buy
For 4 or 5 years now my family only eats Sea Salt Caramel. Simply the best Gelato, including ice cream, ever. Only one problem, it no longer is in Tucson anywhere. Can only assume production had stopped. What happened?
Date published: 2017-03-27
Rated

5

out of

5
by
cybercat83
from
The absolute best!!
We had a "sweet attack" drove to the corner store and saw these little cups. I thought that the small cups would be better for our waistlines! I think I am going to drive back to the store again.....sigh
Date published: 2016-05-23
Rated

5

out of

5
by
MaryAnn
from
BEST SALTED CARAMEL
I LOVED this flavor, it is no longer available anywhere in the US. I HAVE TRIED COUNTLESS BRANDS BUT NOTHING COMPARES to the Haagen Dazs taste I'm looking for.
Date published: 2018-05-09
Rated

3

out of

5
by
frustrated
from
horrible packaging
i really like the salted caramel but I will not purchase it because the small cup container is such a poor design and is too difficult to open . I almost have to demolish it to get at the product & by that time I'm too frustrated to enjoy it. Did you not research the packaging before deciding to use it?
Date published: 2016-12-31
Rated

5

out of

5
by
GillianEmma
from
Omfg!
Seriously I think this is the best Gelato/Ice Cream I have ever had! Not kidding this is going to make me have to run twice as long in the tread mill because I refuse not to have it in my freezer at all times for the rest of my life! Thank you!
Date published: 2018-02-06
Rated

5

out of

5
by
ctgggg13
from
Tastes like heaven!
I bought this for the first time last year, and it was so good that it tastes like heaven in your mouth. If you like salted caramel flavored anything, then this will not disappoint!
Date published: 2016-11-24