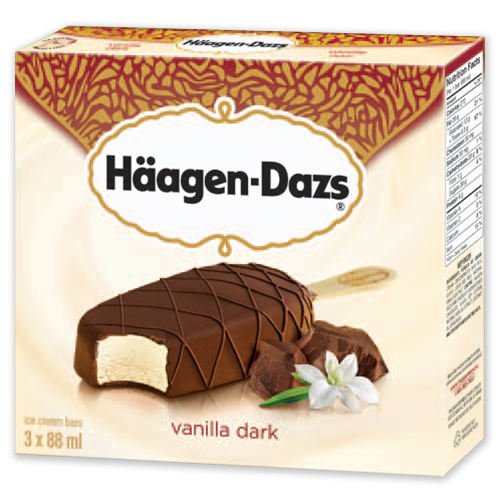 Vanilla Dark Bars
Between the classic rich and creamy vanilla ice cream inside, and the thick and crunchy dark chocolatey coating finely drizzled on the outside, this is a sophisticated ice cream lover's delight.
Features and Benefits
Nutrition Information
Ingredients
Vanilla Dark Bars
Features and Benefits
Our products are made with 100% Canadian Dairy

All products carefully crafted in Canada

We recently improved the wrappers on our ice cream bars, saving two metric tons of waste from reaching the landfill
Description
Features and Benefits
Vanilla Dark Bars
Nutrition Information
In the event of any discrepancy between the information listed on this website and on each individual package, please refer to the information listed on package.
Vanilla Dark Bars
Ingredients
:
,
,
,
,
.
: Häagen-Dazs dark chocolate (
,
,
,
) ,
,
.
may contain peanuts and tree nuts
.