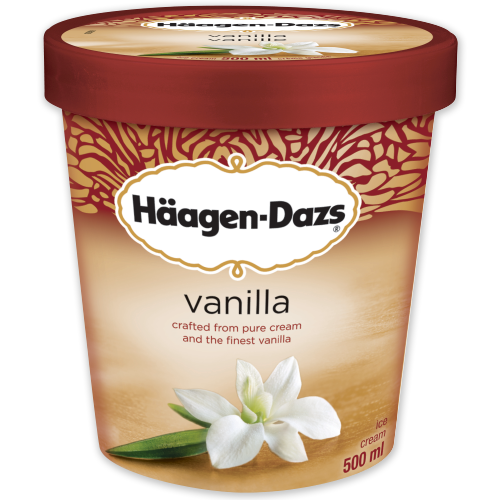 Vanilla Ice Cream
Vanilla is the essence of elegance and sophistication. This marriage of sweet cream and Madagascar vanilla creates the sweet scent of exotic spice and a distinctive taste that lingers on your tongue.
Features and Benefits
Nutrition Information
Ingredients
Vanilla Ice Cream
Features and Benefits
Our products are made with 100% Canadian Dairy

All products carefully crafted in Canada
Description
Features and Benefits
Vanilla Ice Cream
Nutrition Information
In the event of any discrepancy between the information listed on this website and on each individual package, please refer to the information listed on package.
Vanilla Ice Cream
Ingredients
,
,
,
,
.
May contain peanuts / nuts
.
Vanilla Ice Cream
is rated out of
5
by
9
.
Rated

3

out of

5
by
Liz loves Haagen
from
Disappointed with a recent batch
I bought a small bin of vanilla bean and even though the expiry date it is 7 months away it was weirdly separated with the frothy part of vanilla bean at top weirdly frozen and the dense part or cream at bottom. I love this ice cream and how natural it tastes. Can some one call me to replace this and get me a good one? Thx!
Date published: 2017-01-11
Rated

5

out of

5
by
matty95
from
simple is sometimes better
Haagen-Dazs' vanilla ice cream is a great simple treat. Sometimes it's better to go back to the basics. :)
Date published: 2016-10-31
Rated

1

out of

5
by
HD Monkey
from
Noooooo!!! :(
Last week I picked up yet another carton of H-D vanilla ice cream along with a carton of H-D coffee ice cream. Our recent heat wave has made it a rather ice cream friendly summer here, so it has become a frequent purchase. My boyfriend and I dug our spoons into the frosty tubs with great anticipation only to be severely disappointed. The vanilla (along with the coffee) tasted notably sweeter, blander and more milky. In addition, the texture was off (not silky), it had an unpleasant aftertaste (sour?) and did not sit as nicely in our stomachs. It was an unsatisfying and unpleasant experience. I immediately checked the packages to ensure I hadn't selected some new low fat or dairy free version by accident, but the package and ingredients list reassured me that this was indeed my usual H-D vanilla ice cream ... except it wasn't. In fact, it tasted like cheap generic vanilla ice cream. We ate very little that night and haven't touched either flavour since. Both containers are still sitting in the back of our freezer, neglected and unloved. This is NOT normaI. I have been buying H-D classic flavours (vanilla, coffee, chocolate, strawberry) for more years than I care to admit. It is the only ice cream brand I buy. I was always pleasantly surprised that the quality and flavour had remained the same for all of these years ... until now. Why did you change the recipe/process? Please bring back the original - at least for the classic flavours. I used to recommend your ice cream to everyone. No more.
Date published: 2018-08-15
Rated

5

out of

5
by
ice cream junky
from
Simple is best
I love the fact that every ingredient in this ice cream is simple. Back to basics for me. I love this ice cream and wouldn't choose anything else.
Date published: 2016-12-03
Rated

5

out of

5
by
Himxni
from
Best Ice Cream Ever
This is my all time favorite ice cream. Beats everything else.
Date published: 2016-11-09
Rated

5

out of

5
by
Hjh739
from
Best classic
Best vanila icecream out there. Would not get any other ones
Date published: 2016-10-31
Rated

5

out of

5
by
spot
from
The Best Vanilla in Town
This is by far, the best vanilla ice cream on the planet!
Date published: 2016-12-11
Rated

4

out of

5
by
rskeen
from
Good Quality
Another good quality flavor from a trusted brand. Try it.
Date published: 2016-11-05