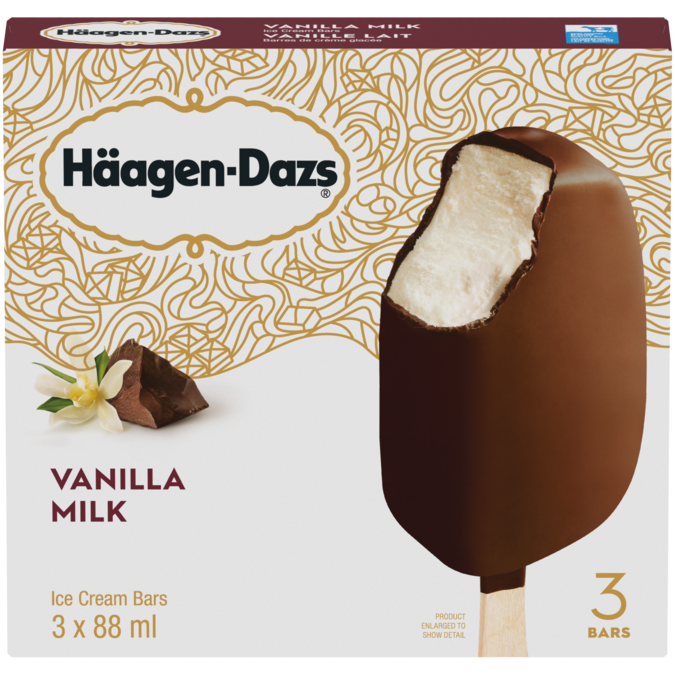 Vanilla Milk Bars
Indulge in the irresistible taste of HÄAGEN-DAZS Vanilla Milk Chocolate Ice Cream Bars. Since 1960, our passion has taken us on a journey to transform only the finest ingredients into a simply extraordinary ice cream experience. To create these delicious ice cream bars, we dip our smooth vanilla ice cream in a rich milk chocolate coating. The result is a perfectly portioned and decadent favourite, made with 100% Canadian Dairy.
Features and Benefits
Nutrition Information
Ingredients
Vanilla Milk Bars
Features and Benefits
Smooth vanilla ice cream dipped in a milk chocolate coating.

Our ice cream is made with 100% Canadian dairy.

Crafted with vanilla sourced exclusively from Madagascar.

Made with only the finest ingredients, no artificial flavours or colours.

New and improved packaging, saving two metric tons of waste annually.
Description
Features and Benefits
Vanilla Milk Bars
Nutrition Information
In the event of any discrepancy between the information listed on this website and on each individual package, please refer to the information listed on package.
Vanilla Milk Bars
Ingredients
:
,
,
,
,
.
: Häagen-Dazs milk chocolate (
,
,
,
,
,
) ,
,
.
May contain peanuts and tree nuts
.