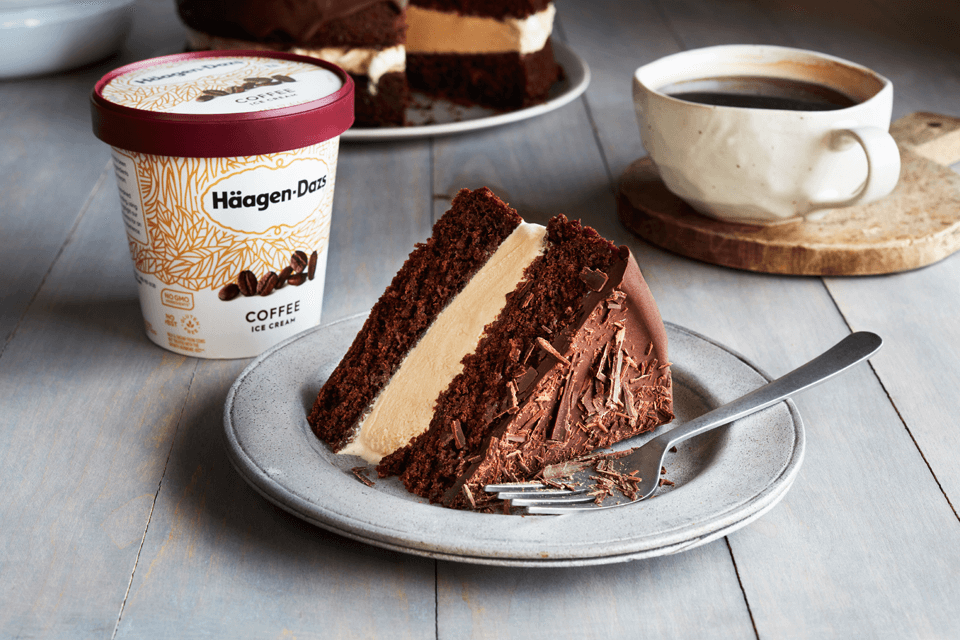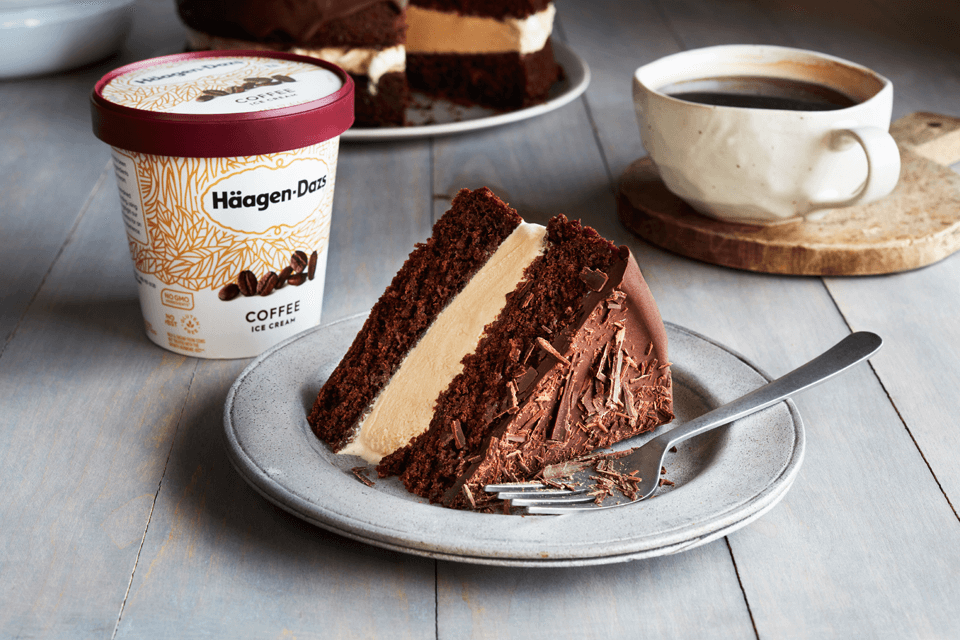 Coffee ice cream sandwiched between layers of rich chocolate cake, coated in chocolate ganache.
Skill level:
Intermediate
What you need
For the Chocolate Cake Layers (2 Layers)
2 cups
All Purpose Flour (or Gluten-Free Flour for Gluten-Free Cake)
3/4 cup
Unsweetened Cocoa Powder
1 cup
Whole Milk (Substitute Almond Milk for Non-Dairy/Vegan Cake)
2
Egg (Substitute ½ Cup Applesauce if Vegan)
3/4 cup
Shaved Dark Chocolate
For the Hardening Chocolate Directly on Cake
8 oz
Bittersweet Chocolate, Finely Chopped
For the Ice Cream Filling
How to prepare
Instructions
Preheat oven to 350 Degrees.
Add flour, sugar, cocoa, baking powder, baking soda, salt and espresso powder to the bowl of a stand mixer. Combine ingredients.
Add milk, vegetable oil, eggs, vanilla and mix on a low speed until well combined.
Fill greased 2-9" cake pans evenly with batter and bake 30-35 minutes until a toothpick inserted in the center of the cake comes out clean.
Remove from oven and allow to cool for 5 minutes. Run a knife around the edges of the cake to loosen and turn over onto a wire rack. Cool completely.
Once cool, spread softened Häagen-Dazs coffee ice cream across the length of the cake and put the second layer of cake on top and place in freezer for 10 minutes.
While cake is freezing, make hardening chocolate. Add chocolate and oil to a double boiler, over simmering water. Cool to room temperature.
While cake is still on wire rack, remove from freezer and gently spread hardening chocolate over cake.
Place in freezer for at least one hour or until serving.
Tips
Feeling Extra Decorative?
Add a border of chocolate coated coffee beans or dollops of whipping cream to the top of your cake for the perfect finishing touch.
Fancy a Minty Variation?
Omit the espresso powder and substitute mint chip ice cream for the coffee ice for a cool take on this cake. Add crushed cookie pieces on top for even more of a treat.