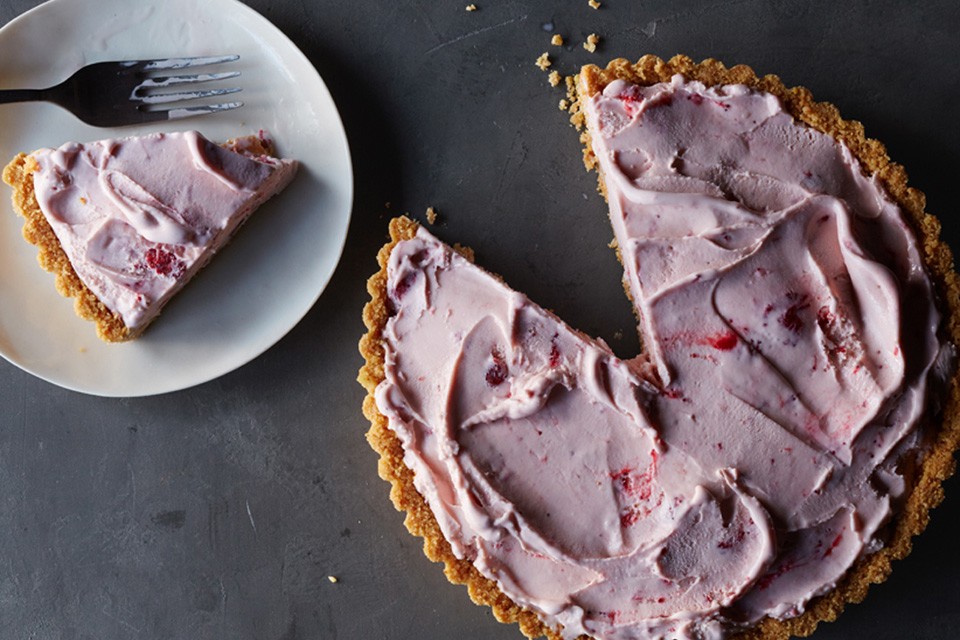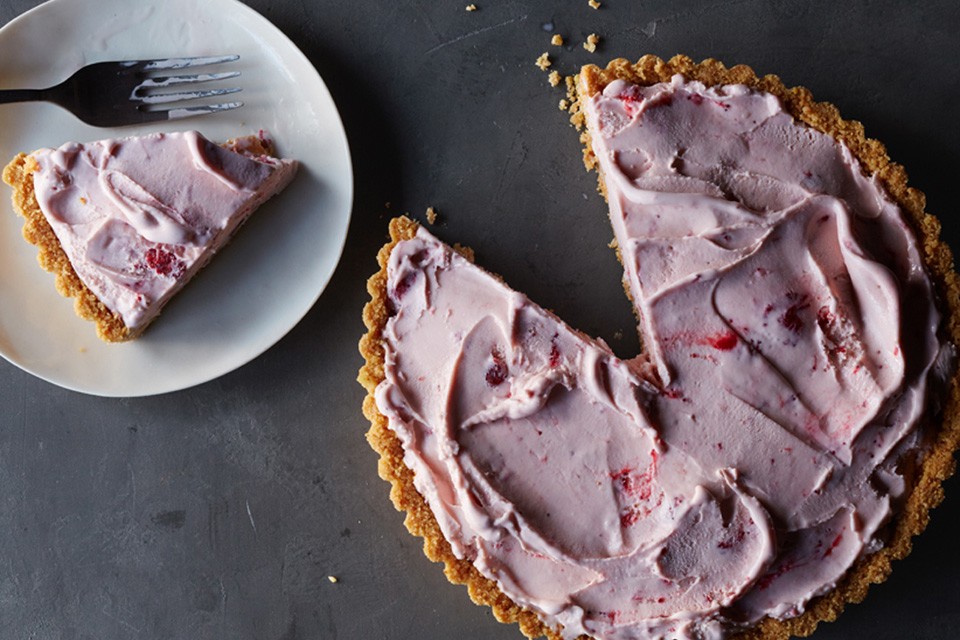 A picture-perfect summer pie filled with delicious strawberry ice cream in a corn cookie crust.
Skill level:
Intermediate
What you need
For the Pie
3
Corn Cookies (See Recipe for Corn Cookies)
3 tbsp
Unsalted Butter, Melted
For the Corn Cookies
1 2/3 cups
All Purpose Flour
2/3 cup
Freeze-Dried Ground Corn, Ground into a Powder
How to prepare
Instructions
For the Corn Cookies (Makes 18 Cookies):
Preheat oven to 375°F.
Combine the butter and sugar in a stand mixer fitted with the paddle attachment, and cream them on medium-high speed for 2-3 minutes until fluffy and pale yellow in color. Scrape down the sides of the mixing bowl with a spatula.
With the mixer at low speed, add the egg.
Increase the mixer speed to medium-high again and start a timer for an additional 3-4 minutes in order to bond the sugar, butter and egg together fully.
Take the speed down to low and add the dry ingredients. Mix just until the dough comes together, and for no longer than 60 seconds. Scrape down the sides of the bowl with a spatula.
Scoop the cookie dough with a scoop or spoon into ping pong ball sized rounds. Arrange cookie dough 3-4 inches apart from one another on a lined baking tray. Bake the corn cookies at 375oF for 10-15 minutes.
Cool the cookies completely on the sheet pan before transforming into corn cookie crush or transferring to an air-tight container for storage. At room temperature, corn cookies will keep fresh for five days. In the freezer, they'll stay fresh for a month.
For the Pie:
Put the cookies in a food processor or mixing bowl and start pulsing or mushing them up, making sure you don't have any large pieces left whole.
Pulse or mix in by hand the softened butter and salt to keep the cookie mixture pliable as a pie crust.
Use your palm and fingers to press the broken cookies into the bottom and sides of a pie tin. Start from the center, and move your way out. Try to get as even of a crust as possible.
When the Häagen-Dazs Strawberry Ice Cream has tempered in the fridge and is spreadable, scoop it into the crust. Pat down the ice cream with the back of the spoon or offset spatula and spread evenly across the corn cookie pie shell.
Freeze up to two hours or overnight to allow ice cream to freeze hard before slicing and serving.
Tips
Finding Freeze-Dried Corn
You can buy freeze dried corn online (amazon.ca) or at Whole Foods and other specialty food stores. If you can only find freeze-dried corn kernels, no problem! Grind them down to powder in a food processor, blender or spice grinder.
Change Up Your Crust
Is the corn cookie too crazy for you? Any cookie or wafer will do great here – chocolate chip, chocolate wafers or even peanut butter! It's an easy one-for-one substitution.