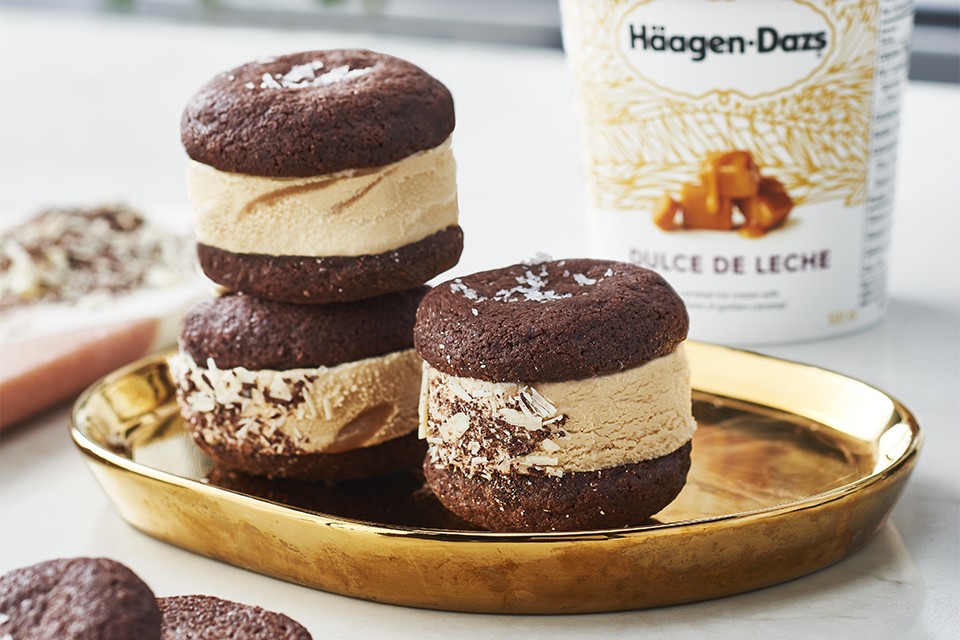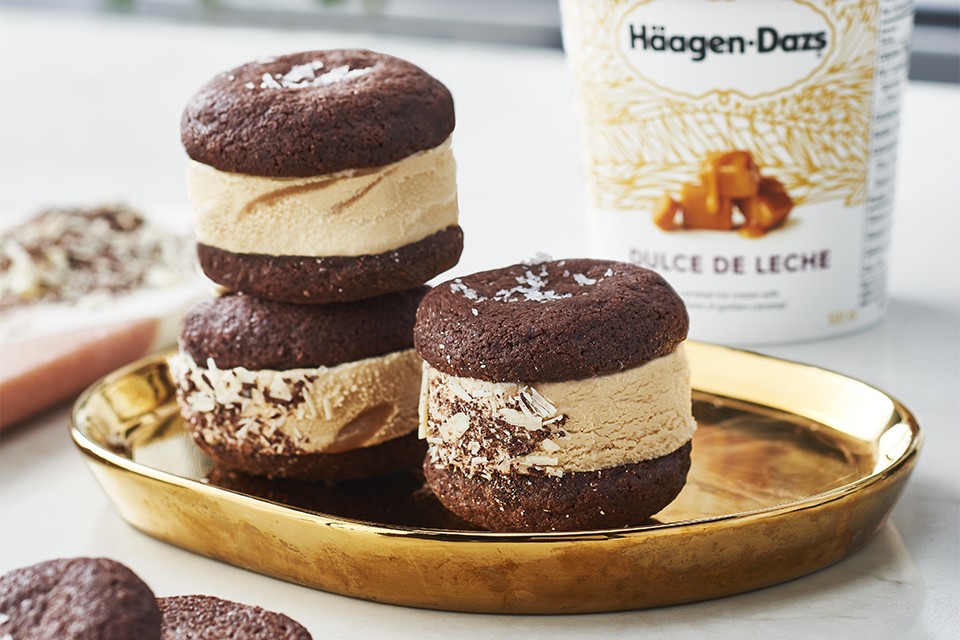 A decadent chocolate brownie cookie, topped with sea salt and filled with delicious Häagen-Dazs Dulce De Leche Ice Cream
Servings:
10-12 Ice Cream Sandwiches
What you need
For Sea Salt Chocolate Brownie Cookie
1/2 cup
Salted Butter, at room temperature
1/4 tsp
Cayenne Pepper (optional)
For Garnish
1/2 cup
Dark Chocolate Shavings (optional)
How to prepare
Instructions
For Sea Salt Chocolate Brownie Cookie :
Preheat the oven to 350F.
In a large bowl, cream together butter and sugar until smooth. Beat in the egg, then stir in the vanilla.
In a large bowl; sift together flour, cocoa, baking soda, salt and cayenne pepper if using; stir into the creamed mixture until just blended.
Measure 1 leveled tbsp of dough, roll it into a 1" ball in between your hands without applying too much pressure.
Working in batches, place each ball at least 2 inches apart on a parchment lined baking sheet. Bake for 8 to 9 minutes.
Once they are just out of the oven, sprinkle some coarse sea salt on each cookie. Cool for a couple of minutes on the cookie sheet before transferring to wire racks to cool completely.
Once cooled, scoop some of your HÄAGEN-DAZS® Dulce De Leche Ice Cream and place it between 2 cookies. Press gently with both your palms so the cookies don't break. If using, roll the sides of your cookies in chocolate shavings.
Enjoy immediately or keep in the freezer for a week.